Multiplying profits by running a multi-operation franchise
Anthony Round, Business Development Manager of Papa John's talks about multiplying profits by running a multi-operation franchise.

For franchisees looking to grow their businesses exponentially, running multiple franchises is a potentially profitable option. This is where the franchisor allows the franchisee to purchase more than one unit or territory.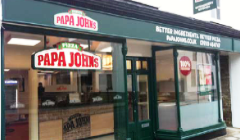 However, instead of simply taking on more work, the franchisee becomes the manager and oversees the day-to-day running of separate franchises. For example; Papa John's often encourage franchisees to expand in this way.
Other considerations for multi-unit franchises include the need for an initial higher investment to purchase additional units or territories, yet the potential income is also increased.
For this reason, multi-operation franchisees need to be 'in it for the long haul'.
In addition, levels of responsibility tend to be higher than running a single franchise operation. Franchisees usually need to employ staff, own vehicles and premises. Therefore, franchisees owning multiple operations must have good people skills to manage and delegate to teams successfully.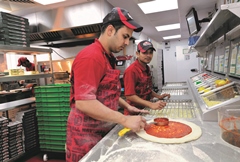 Mastering the running of one operation before taking on a second and third is advisable.
However, at the other end of the scale, more ambitious franchisees who can expand rapidly are often in a position to take advantage of the incentives offered.
Franchised business models represent far less risk than starting in business alone. They also provide the chance to expand dramatically through multi-franchise ownership.
Papa John's unique proposition has proved profitable for franchisees, particularly those who run multi-unit operations. Papa John's was founded in the USA in 1984 and there are now more than 300 stores across the UK and over 4,800 stores in 40 international markets and territories.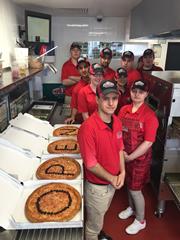 Umar Malik opened his first Papa John's in Swansea in 2014 has now has five stores in Wales. "Everyone wants a piece of Papa John's!" confirms Umar Malik.
"Our first store covered one half of Swansea but it soon became clear there was a demand for a second outlet to cover the other half of the city. We were lucky to secure a great location on the new retail park close to Asda and were receiving calls from customers trying to place orders before we had even opened!
"The incentive scheme currently run by Papa John's to help franchisees set up has been a great help when it came to opening more stores," confirms Umar. "We received deals on equipment and franchise fees, which frees-up a little working capital to spend on other things like marketing."
"The recent Papa John's TV advertising campaign has also provided a real boost to sales and so we are very excited about the future!"
Find out more about the Papa John's Franchise here or use our search tool to help you find the right franchise for you!
Shop Front franchises you might be interested in..