Why not consider opening your own graphics and signs printing business?
Hear from Craig Brown, MD of the award winning Signs Express Franchise. Craig talks about why you should consider joining a signs franchise rather than opening an independent business, how franchisors can help and why it's an exciting industry to be a part of.
About signs and graphics

The signs industry is highly lucrative, with great profit margins and an ever increasing customer base. Did you know that on average, you see more than 400 signs every single day?
It's a sign makers job to make sure these images stand out from the crowd. Being part of a signs business is incredibly rewarding, bringing a customers' vision or brand to fruition.
What experience you'll need
Opening an independent signs business requires a great deal of knowledge of both the practical skills needed as well as considerable resources in order to get your business of the ground.
At Signs Express, you don't need any signs or graphics experience whatsoever as full training and ongoing support is provided as part of the package.
Funding

By joining a leading franchise brand such as Signs Express, you'll have access to funding from all of the major banks as our strong success record means our franchisees are supported when sourcing funds.

We also give assistance in developing a business plan with you which will ensure you have the funds you need from the outset so you can hit the ground running when starting your business.

Help from franchisors

A franchise offers you support and experience from a proven business model. For example, at Signs Express we provide full and comprehensive training and on-going support in an array of areas that include operations, sales and marketing, finance and also procurement.
Joining a franchise means you get access to fantastic resources whilst still being your own boss.
The Signs Express Franchise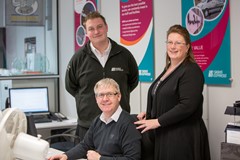 With a dedicated UK support team and no prior sign making experience necessary, we are industry leaders operating in over 80 territories throughout the UK. Dedicated marketing support for your business as well as access to thousands of sales leads you means can take advantage of our 25 years' of experience.
When becoming a franchisee within the Signs Express network you will be added to our established website. We are the most searched signs brand on Google and ensure you're appearing near the top of every local search in order to generate the most leads possible for your business.
This, along with all the operational support you need, means you'll get the best possible start to your business.
So really, the question should be, why not choose Signs Express?
Find out more about the Signs Express Franchise or use our Search Tool
to search for more exciting franchise opportunities!
Shop Front franchises you might be interested in..