An opportunity to join 'the Herd', by owning your own
Mooeys Salon Franchise and running a profitable and proven
Nails and Waxing Business!
Established in 2013 Mooeys provides customers with specialist nail and waxing services and has since opened two well-established and profitable salons in Farnham and Horsham. Due to their success Mooeys is now launching an exciting franchise opportunity to expand across the UK.
This is a really exciting time within the beauty industry, as it continues to thrive year after year. So, get involved, join a fun and exciting company, be a part of a growing team and do something for yourself.
The Mooeys Salon Franchise Opportunity:
As a Mooeys Franchisee you will run your own salon offering specialist nail and waxing services to your clients.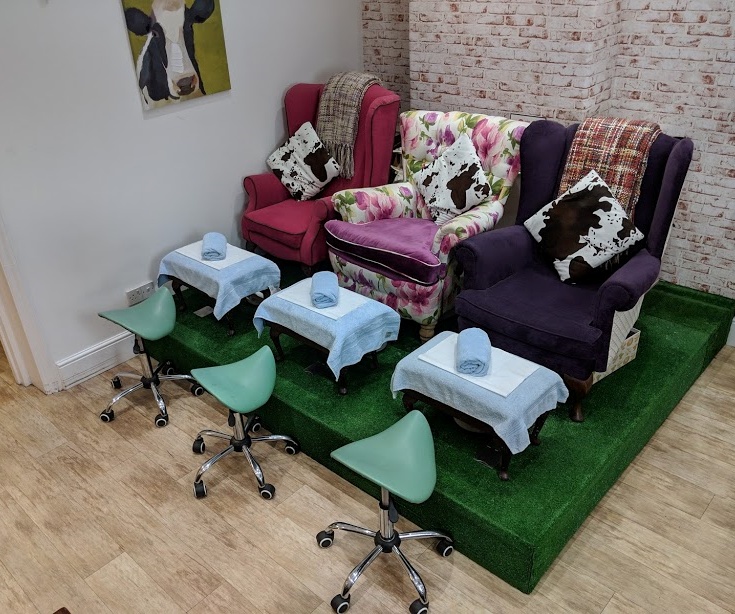 As well as employing staff to provide the services franchisees can either focus on managing the business or also providing treatments, if qualified to customers.
Mooeys seek to create an experience for clients with fun and funky surroundings that makes them feel different yet homely. Somewhere that takes care of people, is really 'mum friendly' and allows joint conversations between clients and therapists to flow. Mooeys is a safe place for all clients to feel comfortable and have some time for themselves.
No qualifications necessary!
You don't have to be a qualified therapist; you just have to care enough about delivering excellent service.
You can manage your business from the helm (also known as reception) — driving your business with marketing and customer service, while exceptional therapists deliver the treatments for you.
What do I get for my money?
Setting up a business is a lot more work than people think — and to come up with your own USP is even harder.
With a Mooeys Salon Franchise, all of the hard work is done for you, it is literally a business in a box.
You just need to source the premises, get the money together and kit it out. Mooeys will support you every step of the way.
Franchisees will also receive outstanding training and support such as:

Training
System software training
Management and staff treatment training
Salon service and client journey training
Recruitment training
Financial training – budgeting and forecasting
Health and safety training/support
HR training with the support of Peninsula
Support
Ongoing operational support after launch
Quarterly business coaching
Monthly meetings
The franchise fee to run your own Mooeys Nails and Waxing Business is £19,500 and you will need additional investment of approximately £35,000 to fit out the chosen premises. This makes an overall investment of £55,000.
Lending possibility of up to 60% of start-up costs via preferred banks if required.
As part of the franchise package franchisees will receive:
Assistance with sourcing and agreeing on a premises, including negotiations and planning help
Preferential banking with pre-authorisation for start-up loans
Recruitment support – advertising and recruitment
The use of the Mooeys brand & name
Full operations manual with a how-to guide to deliver the service, run the business, manage your stocks etc.
Décor and design guidelines
Outstanding training and support
Marketing Support


Your location added to the Mooeys website
Your location added to the Mooeys App
Treatment Cards/Business Cards/Gift Cards
Price lists
Find out more about the Mooeys Salon Franchise opportunity and running your own lucrative Nails and Waxing Business.
Click below now!
What

Our Franchisees Say

I have met some incredible people along this journey and made some lifelong friends.

Feel the fear and do it anyway, it was worth all the hard work and determination. I now love going to work.

The best decision I ever made. I have had so much fun creating my own business. just wish Amie had thought of this sooner!
Related

Franchise Categories
Related

Franchise Types