Papa John's Mansfield Opening Exceeds Expectations
14th August 2017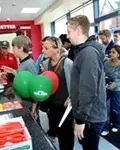 Leading pizza franchise, Papa John's, has announced its newest store located in Mansfield, Nottingham has exceeded expectations!
The store which opened at the end of July is centrally located in St Crispin's Court, Stockwell Gate and run by franchisee Abdul Kasana, who also manages four other Papa John's in the region.
Abdul Kasana confirms:
"We have recruited ten new part-time, plus ten more full-time local staff to manage the Mansfield store. The opening was attended by the local press and meant we were incredibly busy from day one! Local residents were keen to find out what was on the menu and to try our top-quality Papa John's pizza, known for its fresh dough and ingredients and we were delighted to deliver!"
Abdul who previously worked as an education consultant in London prior to joining Papa John's as a franchisee continues:
"To help us launch the Mansfield store we were able to take advantage of a special franchisee incentive scheme run by Papa John's. This gave us deals on equipment, assistance with marketing and reduced royalty fees which is a real helping hand when setting up a new business. It has meant we have tasted success quickly with the new opening!"
Anthony Round, business development manager, Papa John's explains:
"Papa John's is expanding rapidly in the UK and we now have well over 350 stores across the country. We are proactively recruiting for new franchisees to help bring more Papa John's top quality pizza to the people! Franchisees don't need any direct industry experience as we provide full training. However, individuals do need to be motivated, enthusiastic, hardworking, business minded and want to be part of a growing team.
In return, we support franchisees through the entire process of setting up a franchised Papa John's, including training, help with location selection and full turnkey solution to opening the store. Through our latest incentive deal, we are looking forward to working with more new franchisees all hungry to become part of our success story by opening-up more Papa John's stores throughout the UK."
Find out how you can start franchising with Papa John's by clicking below