Papa John's Pizza Means More Business in Maidstone
31st July 2017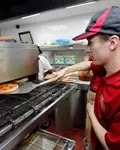 Leading pizza franchise, Papa John's, has announced it has opened in Maidstone.

The new Kent-based store will be run by Gurinder Atwal who first joined the franchise in 2010. Gurinder and his brother Sukdev, run five Papa John's stores in the South East including Chatham, Rainham, Strood, Canterbury and now Maidstone.
Gurinder Atwal explains:
"Before joining Papa John's we ran several fish and chip shops. However, we were looking at investing into a business with good future prospects and all the ingredients to allow us to open multiple outlets. Papa John's was and still is about growth and we liked that.
To make sure we understood the daily challenges of running a Papa John's we worked in a store for six months. This really helped us learn the trade from the ground floor up and empathise with our employees and customers better. We learned the importance of staff motivation and excellent customer care and this has remained with us. Over the years we have built on this knowledge and we are now looking forward to delivering on the Papa John's promise of: BETTER INGREDIENTS. BETTER PIZZA. to the residents and families of Maidstone."
Anthony Round, business development manager Papa John's confirms:
"We continue to expand and there are now well over 350 Papa John's in the UK. We are actively recruiting for new franchisees who are keen to bring our superior quality pizza to new regions around the country. Franchisees don't need any direct experience of the industry as we provide all the necessary training. However, individuals do need to be motivated, enthusiastic, hardworking and want to be part of a growing team. Good interpersonal and people skills are essential, as franchisees deal with customers, as well as lead a team, on a daily basis.
We are currently running an incentive scheme to help franchisees setting up. This includes royalty reduction programme, some free equipment plus a marketing launch package provided by Papa John's. This targeted support has been specifically designed to help franchisees in their first year of trading, in-order to improve cash flow, reduce capital spending and drive sales from day one.
In addition, our dedicated team supports franchisees through the entire process of setting up a franchised Papa John's, including help with location selection and full turnkey solution to opening the store. Through our latest incentive deal, we are looking forward to working with more new franchisees all hungry to become part of our success story by opening-up more Papa John's stores throughout the UK."
For further information on Papa John's franchise opportunities just click below